Last of the Mohicans Festival
Courthouse Plaza
Hosted by the Burke County Tourism Development Authority (TDA), and Sponsored by Lake James Real Estate, this one-of-a-kind event will celebrate the incredible impact the making of this motion picture had on the citizens of Burke County and surrounding areas.
TICKETS TO THE BELOW EVENTS CAN BE PURCHASED THROUGH THE BOLD LINK AT THE BEGINNING OF EACH PARAGRAPH:
Last of the Mohicans 30th Anniversary tickets are on sale for $13 for general admission (kids 5 and under are free!). Tickets include access to the festival in downtown Morganton where there will be musical entertainment, heritage craft vendors, food trucks and reenactors.  A full schedule of the event is available below and will also be posted on the festival grounds day of.
Catawba Valley Beer Festival will be during the festival from 3pm to 6pm on the historic courthouse square. Tickets are separate but include a souvenir glass featuring the Last of the Mohicans Festival Logo and Catawba Valley Ale Trail Logo and beer from all 12 breweries on the Catawba Valley Ale Trail. Each brewery will have 2 different brews on tap.
Excursions and Presentations will take place the two days before the festival on May 12 and 13. A guided tour of Henry River Mill Village where the Hunger Games was filmed will be on Thursday May 12th and a guided tour of Chimney Rock with Leon Goodstriker from Last of the Mohicans will take place on Friday May 13th. We will also have educational presentations on the 13th as well as during the festival to include making a market wallet, dress during the 1750's, and the importance of tea.
Watch the Movie on the big screen! Showings at 7pm and 9:30pm across the street at the Marquee Cinema on sale until sold out. Purchase tickets from the link.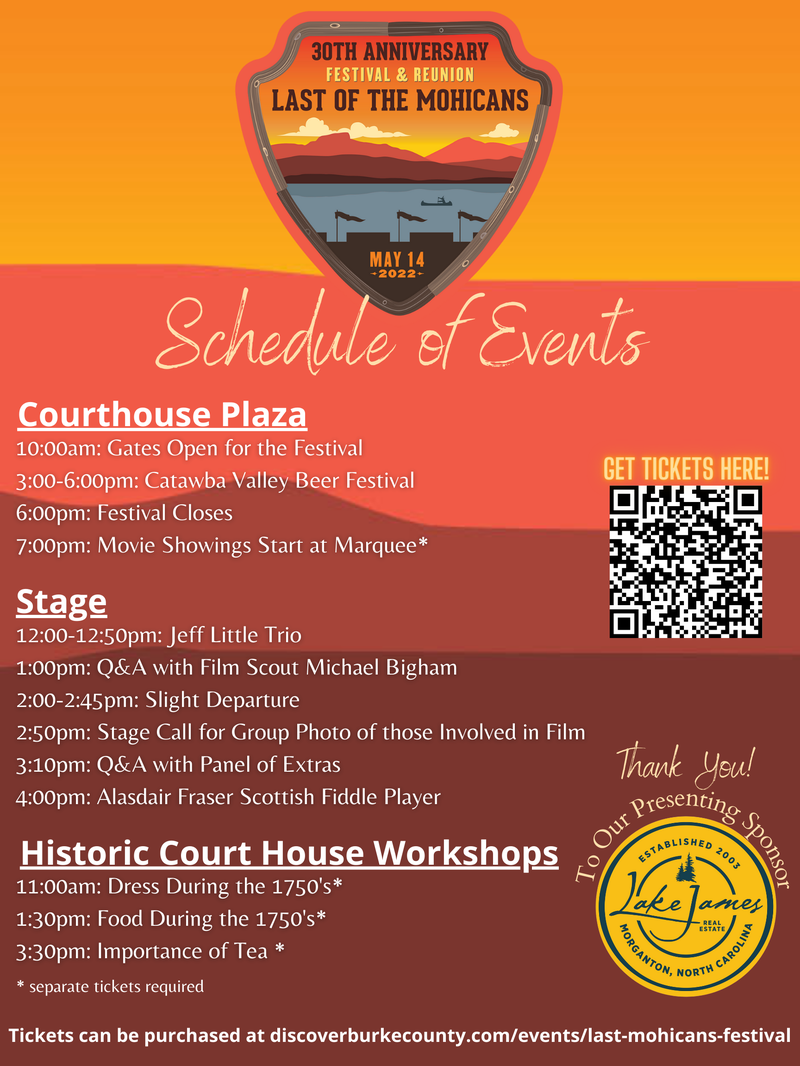 Get Last of the Mohicans Festival Tickets Here!