Linville Gorge Wilderness Area
The Linville Gorge is one of Eastern America's most scenic destinations. Named for William Linville, a local explorer, the 12,000 acre Linville Gorge Wilderness Area and its virgin forests are part of the Pisgah National Forest. Some of western North Carolina's most remarkable landmarks reside in the gorge, including Linville Falls, Table Rock Mountain, Shortoff and Hawksbill Mountains, the Chimneys and Sitting Bear. The views of and from these mountains are breathtaking. Hiking, mountain biking and rock climbing in the gorge can be challenging since elevations range from 1,300 feet on the Linville River to 4,120 feet on Gingercake Mountain. 39 miles of trails weave throughout Linville Gorge and make for a variety of adventures like backpacking and camping.
The Linville River runs for 12 miles through through the bottom of Linville Gorge. Linville Falls, located on the Blue Ridge Parkway near Milepost 316.4 (about 66 miles north of Asheville) drops 90 feet into the Linville Gorge. The Linville Falls Recreation area provides opportunities to fish, swim, picnic, hike and enjoy the outdoors. Wiseman's View, an outcropping of rock on the western side of the gorge, provides magnificent views of Table Rock and Hawksbill Mountains. The Forest Service access road is marked where it connects to Highway 183 off of Highway 221 near the town of Linville, North Carolina.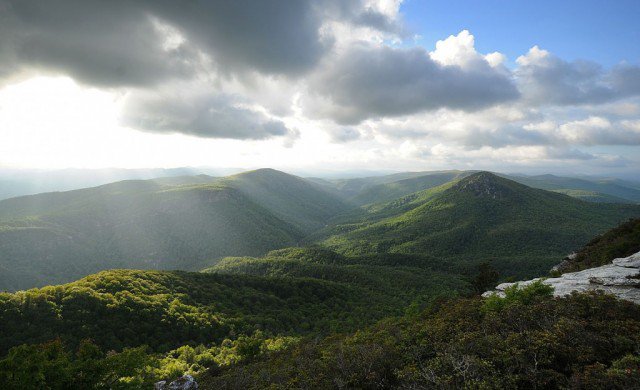 ---