July 27, 2023
Celebrating the 48th Annual Waldensian Festival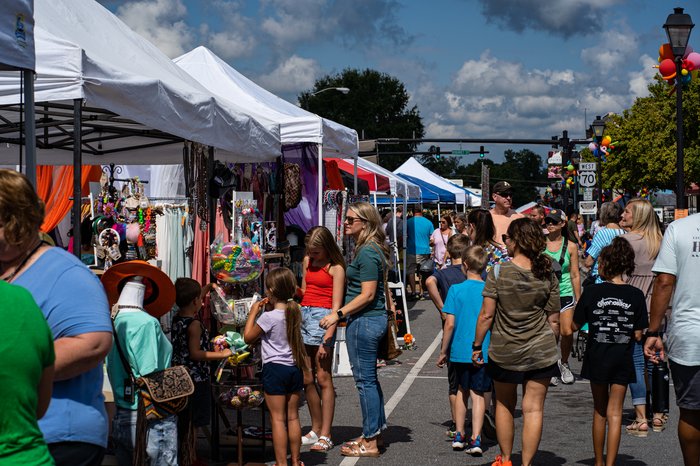 Welcome to the 48 th Annual Waldensian Festival
After years of enduring religious persecution and exile, the Waldensian people triumphantly took back
their homelands in the valleys of the Cottian Alps in 1689. This "Glorious Return" is observed and
remembered in Waldensian communities throughout the world. Held annually, the second weekend of
August, Valdese remembers this victory through the Waldensian Festival, a community-wide
celebration of music, history, arts, and cuisine. Festival highlights include a classic car cruise in,
regional bocce tournament, free children's area, attraction tours, outdoor drama, a wide variety of live
entertainment, and over 150 food & artisan vendors.
48th Annual Festival Friday – August 11th
Classic Car Cruise-In, Beer & Wine Garden Opens, Food Trucks
Main Street will begin closing at approximately 5:00 P.M. on Friday, August 11 th to prepare for dozens
of antique cars to line the street. Those interested in participating in the cruise-in can find details at
waldensianfestival.com. Domestic beers will be available for purchase on behalf of Burke Sunrise
Rotary and Waldensian Style Wines will be pouring all night, including their famous Brenda's Peach
Bellini! Those that partake in beer & wine are reminded to only consume it within the allowed areas of
the festival. Attendees are not permitted to bring coolers to the Main Stage area. The Beer and Wine
Garden will be open from 5-10:00 P.M. Food trucks in attendance include Dig 'n Dogs and Village Inn
Pizza.
Festival Friday Kick Off Entertainment: Southside Station & FIREWORKS!
Southside Station is a 5-piece variety band of talented musicians of vocalists and musicians
dedicated to playing acoustic guitar, lead guitar, bass, fiddle, banjo, mandolin, upright bass,
harmonica and drums. Their unique song list consists of legendary dance hits, rock, country, yacht
rock and singer song writer hits. Southside Station shares the talents of Veteran musicians that they
have shared the stage including Charlie Daniels, ZZ Top, Styx, Foreigner, Jimmy Buffett, Sara Evans,
Sheryl Crow and many more. Known for their energetic stage presence and their diversity of their
song lists, Southside Station will certainly kick off this special weekend in style.
Shortly after dusk, a brilliant and impressive fireworks display will be launched from behind the Old
Rock School. The colorful bursts will be able to be viewed from all over downtown.
Festival Saturday – August 12th
Great Waldensian Footrace
Each year during the festival the Great Waldensian Footrace is held. This event begins on Saturday
at 8:00am with a 5 and10k run starting at the Valdese Community Recreation Center. As in past
years, runners will head down Laurel Street, then onto Lovelady before making their way back. The
5k runners will double back before they hit Lovelady, avoiding the long uphill stretch. Children are
also included in this fun event by joining in the one-mile Fun Run immediately after the 5 and 10k
race. Race will feature fruit, drinks, etc. Valdese Community Center Pool and splash pad will be
available to all participants and guests.
Le Phare Des Alpes hosts Regional Bocce Tournament
The Waldensian Festival would not be complete without bocce. The Western North Carolina Regional
Tournament, sponsored and hosted by the Le Phare des Alpes (LPDA) located on Laurel Street
South, will begin promptly at 8:00am on August 12th. The top three winning teams will qualify for the
state tournament. This year's local and state competitions do not have an age limit as in previous
years. Bocce, a game similar to lawn bowling, was a favorite pastime of the early settlers in Valdese
and continues to prove entertainment for young and old. The LPDA will also be serving hot
Waldensian Bread cooked right on site in the wood burning oven, and a favorite food of the
Waldensians, soutissa, a pork based sausage.
Information Booth & Vendors Open
Located at the corner of Rodoret & Main Street, Festival attendees are invited to visit the Valdese
Information & Merchandise Booth. Information on all event activities will be available. Valdese t-shirts,
Valdese license plates, decals, and flags will be available for purchase. Over 150 food and craft
vendors will flood Main Street from Carolina Street to the Old Rock School on Saturday from 9:00am
until 6:00 P.M. A wide variety of festival booths will be represented, so be sure to visit each one!
Handmade crafts, furniture, apparel boutiques, children's activities, giveaways, and of course- all the
street food favorites you can eat!
Waldensian Presbyterian Church Presents FREE Children's Area!
Bouncy Houses, Art in the Park, Bocce, Games, Tasting Tent, Sanctuary Tours, Community Children's
Moment, and More!
New this year- Waldensian Presbyterian Church presents FREE community children's area featuring
multiple bouncy houses, including an 80 ft. waterslide obstacle course! Art in the Park activities at
Centennial Fountain include finger painting, sponge painting, stamps, and more! A variety of fun
sports and lawn games will be available, including bocce- a favorite Waldensian pastime! Stop by the
tasting tent for a sample of delicious soutissa, grapes, breadsticks, and cheese! Enjoy tours of the
stunning Waldensian Presbyterian Church sanctuary- featuring a special children's moment with
worship and music and a history of the church's stain glassed windows. Some festivities start at 9am
with the majority taking place between 10-2pm.
Farris Insurance Agency presents Chainsaw Artist, Mountain Mike
Festival sponsor, Farris Insurance Agency will host Mountain Mike an international speed carver and
Masterpiece carver, who holds the title of "Master of the Chainsaw" 2016 and 2017. Mountain Mike was a
member of the 2015 U.S. (2nd place) speed carving team in the world championships. 3rd Place in the
Australian chainsaw carving championships, 1st place "Carving at the casino" Seneca, NY. Top auction at
Chaptacular Chainsaw Bash in Grey, GA 2 times. 1st and 2nd at Ridgway Rendezvous in PA. He is featured in
a seminar on YouTube for Ridgway 2017. Be sure to check out his talents as he will be demonstrating his
cutting skills throughout Festival Saturday at the Farris Insurance Agency Parking Lot (located at the
intersection of Main Street and Carolina Street.
Valdese Attractions
While enjoying the Waldensian Festival, take time to visit the major attractions in Valdese, many of
which showcase the fascinating history of the Waldensians.
The Waldensian Heritage Museum & Gift Shop will open its doors at 10:00 A.M. While touring the
museum, experience the Waldensian Heritage by viewing the many original artifacts and heirlooms;
including pictures, clothing, housewares, and tools that belonged to the settlers of Valdese. The
museum also manages an impressive collection of historic books and manuscripts, including Bibles
written in Italian, French, Patois dialect and Hebrew. Pews, the pulpit, the communion table, plates
and goblets that were used in the first communion at the original Waldensian Church are displayed.
The Trail of Faith is located on Church Street and is a wonderful way to experience the history of the
Waldensians and founding of Valdese. The Trail is a 10 acre, 15 exhibit memorials, recreating the
Waldenses' perseverance with replicas of their homes, churches, monuments, a seminary, and more.
Self-guided tours are $10 for adults, $8 for seniors and $6 for students. Visit waldensiantrailoffaith.org
for tour hours and further information.
Piedmont & Western Railroad Museum is one of the largest indoor railroad displays in the state.
Founded in July of 1988, the Piedmont & Western Model Railroad Club has combined the talents and
passions of local railroad enthusiasts to create a fictitious rail line serving Western North Carolina.
The HO scale railroad runs from Marion, NC to Leadvale, TN, carrying loads across the scenic Blue
Ridge Mountains. The total trackage covers over 1,000 feet! The PWRR museum is located on the
lower level of the Old Rock School.
Rock School Arts Foundation 36th Annual Open Art Competition
The Rock School Art Foundation galleries are located on the second floor of the Old Rock School and
open at 9:00 a.m. You will not want to miss the variety of artists, mediums, and subject matter
displayed in the gallery's most diverse exhibit of the year! Remember to cast your vote for your
favorite for the 2023 People's Choice Award! The exhibit will be in the galleries through Friday,
September 15th. Galleries are open weekdays from 9:00 a.m.–5:00 p.m. The exhibition can be
viewed at rockschoolartgalleries.com from August 12th to September 28 th .
The Rock School Arts Foundation will also welcome a variety of artists as they host a special art
demonstration in the Waldensian Room of the Old Rock School. Enjoy the exhibits and
demonstrations from over 15 different artists. Don't just see the work being created, look to purchase
a one of a kind masterpiece as well.
Old Colony Players Present Historic Outdoor Drama "From This Day Forward"
Now in the 55th consecutive season, "From This Day Forward will hold special performances Friday
and Saturday night of Festival weekend beginning at 8:00 P.M. at the Fred B. Cranford Amphitheater.
Holding the title of the longest running outdoor drama in North Carolina, "From This Day Forward"
brings the incredible journey of the Waldenses to life, covering the persecution faced in the valleys of
the Cottian Alps to the founding of the town of Valdese. With a combination of tears in your eyes and
laughter in your heart, you can witness this story of tragedy and triumph. Tickets can be purchased by
visiting oldcolonyplayers.com or by calling 828-522-1150. Rated PG-13 for scenes of battle and peril.
Valdese Parks & Recreation: Cool off, children play, and unique views!
The Valdese Parks and Recreation Department welcomes visitors to all of our parks and facilities
during the weekend of the Valdese Waldensian Heritage Festival! We encourage festival goers to
visit McGalliard Falls, where you can check out the falls, the mill, and access the new McGalliard
Creek Bridge. Check out the trails at Valdese Lakeside Park, take the kids to the Children's Park
playground, or visit the Splash Pad in town.
The Community Center will be open until 5pm on Festival Friday, at which point we will close for
preparations for the Great Waldensian Footrace. The community center, including the fitness center,
gym, bowling alley, and pool will be closed on Saturday. The center will re-open on Sunday, August
13, from 1-5pm.
Valdese Lakeside Park
McGalliard Falls Park & Meytre Grist Mill
Children's Park
Valdese Family Splash Park
Photo Opportunities:
The Arrival art installation was finished in 2018 to honor Valdese celebrating 125 years since their
founding in 1893. The Valdese Public Arts Commission and the Town of Valdese came together to
create a commemorative art piece that is located across from Valdese Town Hall on Massel Avenue.
The installation depicts the arrival of the original Waldensian settlers who came to Valdese on May
29th, 1893 as they departed the "No. 11" train at the Valdese Depot. The installation was created by
the artists of Oak Hill Iron & Wood of Morganton and was designed by local artist Greg Mastin. The
project features a full scale train and silhouettes of original settlers made out of iron. Standing
between twelve and fifteen feet tall and extending parallel to Massel Avenue for over thirty feet, the
installation will honor those who founded Valdese. The original settlers are listed on a bronze plaque
which will be created by the Waldensian Heritage Museum. The installation also features a
boardwalk and gazebo, providing an amazing backdrop for your festival day selfie or group photo!
Centennial Fountain: Valdese celebrated its Centennial in 1993. The Centennial Park and Fountain
was opened on Main Street to commemorate the special anniversary. The beautiful fountain has
become a photo backdrop for visitors and locals alike.
McGalliard Creek Bridge: The 160-foot-long bridge connects two of Valdese's important places to
visit, McGalliard Falls Park and Valdese Lakeside Park. The bridge can be accessed easily from
either park and provides a beautiful, natural backdrop for photos and an area to enjoy the quiet
sounds of nature.
Meditation Point: Located at Valdese Lakeside Park, Meditation Point offer beautiful lake views of
Lake Rhodhiss bordered by Table Rock.
Saturday Entertainment- Main Stage Lineup
9:00 A.M. -Tumblemania Performance
Enjoy a special performance at the Main Stage as local tumblers share their flips, jumps and dance
moves.
10:30 A.M. - Old Colony Players Reenactment from "From This Day Forward"
The cast from the Historic Outdoor Drama will share a reenactment of the production including French
hymns and sword fighting.
11:00 A.M. – Music by Pandemonium
Enjoy the steel drum sounds of Pandemonium as they join the Waldensian Festival. Their
soothing mix of melodies will be sure to provide the perfect background music for all the festivities.
12:00 P.M. – Music by Garrett Huffman
Garrett's musical journey began in the spring of 2020 when he decided to teach himself to play the
guitar over quarantine. From there, he fell in love with music and developed a passion for song writing.
He plays a variety of different music genres including country, 80s, and alternative pop. Garrett is a
2023 nominee for a finalist for the Carolina Country Music Awards Entertainer of the Year.
2:00 P.M. – Debbie Huffman Dance Academy Demonstration
Local Valdese dance studio will offer a special presentation by their dance students. DHDA offers
dance classes for ages 3 thru 18. Teaching ballet, tap, jazz, lyrical, and hip hop including beginning
introductory acrobatics. With over 30 years of experience, they are dedicated to the art and expect our
students to be also.
3:00 P.M. – Music by the Night Move Band
With a cast of musicians that can each boast over 25 years of experience this band is just as home
on stage in front of a large festival crowd as they are playing for a private party. With a diverse
song list including artists such as The Temptations, Delbert McClinton, The Tams, The Four
Tops, Wilson Pickett, The Drifters, Kool & The Gang, Huey Lewis & The News, and many
more this band comes ready to please any audience.
7:00 P.M. – Music by Ryan Perry (Festival Headliner)
Ryan Perry has cemented himself as one of THE hot country acts in the Southeast. Opening
for Tracy Lawrence, Colt Ford, Toby Keith, Jamey Johnson, Ronnie Dunn, and more, Ryan is
versatile and entertains country-loving crowds of all ages. With a unique voice that you won't
forget and a charisma that is contagious, you will be eager to catch as many shows as you
can! With a raw and rugged talent, his charisma, and a fierce passion for quality country music,
Ryan Perry is quickly cementing himself as one of country's next big stars.
Hailing from the mountains, of Western North Carolina, Ryan has a voice you won't forget and
a vibe that is contagious. As a singer and songwriter, Perry credits Travis Tritt, Chris Stapleton,
Morgan Wallen, Hardy, and Luke Combs as his biggest influences. Perry also credits his
parents as his guiding light providing "key lessons every single day and in everything I do."
They instilled a strong work ethic, and taught him the importance of integrity, loyalty, respect,
humility, and compassion. These lessons have been the driving force in his life, musically, with
his family, and in everything he does. Perry has been on the road touring throughout the
southeast honing his performance skills playing clubs and festivals across the southeast. He
has headlined countless shows and also opened for some of country's biggest stars including
Tracy Lawrence, Toby Keith, Jamey Johnson, Ronnie Dunn, and more. (Sourced from
https://ryanperryofficial.com/).
The Festival Committee would like to express their sincere appreciation and thanks to the 48 th
Annual Waldensian Festival Sponsors:
Paramount Ford of Valdese
Valdese Weavers LLC.
UNC Health Blue Ridge
Edward Jones Financial: Steve Fisher
Grace Heights Health & Rehabilitation
College Pines Health & Rehabilitation
Meridian Specialty Yarn Group Inc.
Foothills Broadband
Bimbo Bakeries USA
Farris Insurance Agency
Lonon HVAC
Urgent Care of Mountain View/ Belle Vi Medspa
Unix Packaging
Heritage Funeral Service and Crematory
Sossoman Funeral Home
Faith Community Church
Burke OnSite Computer Solutions
Without your support, the Waldensian Festival would not be possible! Thank you!
For more information about the Waldensian Festival and other Valdese events, please go to
visitvaldese.com or call Valdese Community Affairs at 828-879-2129.